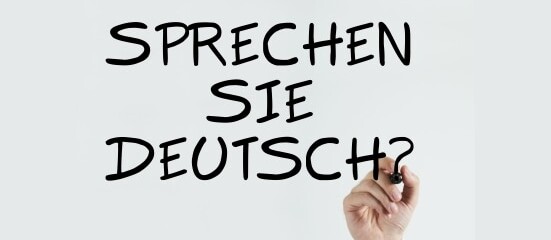 Willkommen to my website, my name is Giulia, I'm a teacher for German courses in Munich.
1. Introduction
Either you are in Germany for vacation or you just moved here, you probably realized that speaking the language can give you the boost you need to integrate yourself into the social and working environment. Eventually, you might decide to take a language course, especially if you plan to stay longer.
There are many possible ways to learn. You can have individual lessons (Singlekurs or Privatkurs), lessons for the couple (Paarkurs), or a group (Gruppenkurs). Spoiled for choice, die Qual der Wahl!
For those who are not in a hurry to learn a group course is the most appropriate choice. It is possible to follow a class in one of the many language schools here and abroad.
I've taught in some language schools for a few years and I can say the drawback of learning in a class is that often there are too many students and the level is too heterogeneous to be effective.
You can see the difference between a classroom and a private course in the drawing below.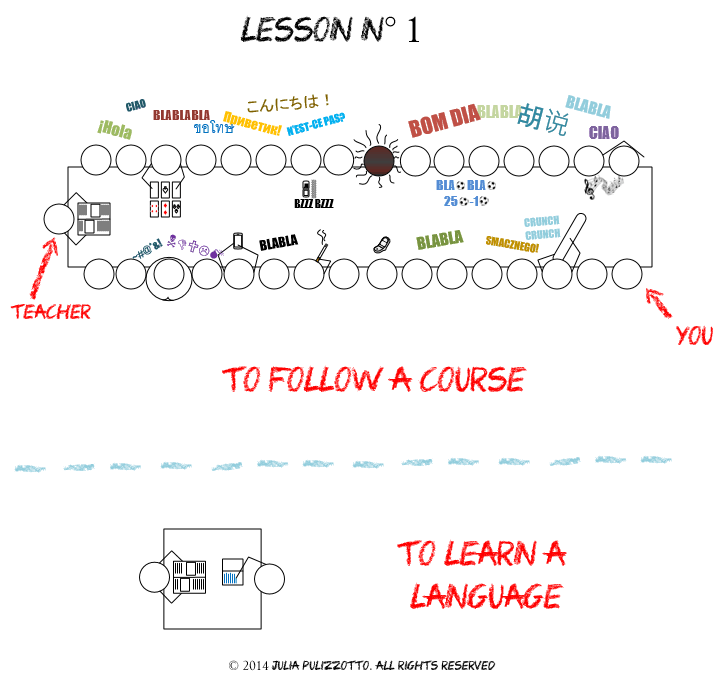 Private courses
The more efficient and fastest way to learn is with a teacher dedicated to you, this way she can adapt the lessons to your needs. You can be sure you will learn the language at an incredibly higher speed compared to a group course.
Only in a private lesson, the teacher can help you with the many grammar traps of the German language.
Even better, the teacher has the time to help you with the pronunciation. That is usually neglected in a normal course for time reasons.
This said I don't want to deceive you, this is a very difficult language. Learn it requires effort, time, and commitment.
2. Courses: Price and Info
In this paragraph, you find all the info you need to know about my courses.
Private class
The lessons cover all the levels starting from A1 and up to C2. In particular:
levels A1 and A2 give the basics of the grammar and provide a basic vocabulary to express the easiest sentences.
levels B1 and B2 are aimed to develop the vocabulary of the student and consolidate his grammar knowledge.
levels C1 and C2 are very much focused on conversation, very often we are going to discuss subjects hinted by the news and read a text of higher level.
I also offer testDAF preparation courses, the test is required to access many universities. If you never heard about, DAF stands for Deutsch Als Fremdsprache (German as a foreign language). You find all information on my page about German language tests.
Prices
Each lesson unit lasts for 45 minutes and costs 40€.
It can be booked in a group of 2, 4, 8, 12, 16, or 20 lessons of 45 minutes each. The prices are shown in the table below.
Option
Number
of lessons*
Total cost (€)
A
2
80 €
B
4
160 €
C
8
320 €
D
12
480 €
E
16
640 €
F
20
720 €
(10% discount)
*1 lesson lasts 45 minutes and costs 40€
For the couple course (2 people) a 45 minutes lesson costs 30€ per person.
It can be booked in a series of 2, 4, 8, 12, 16 or, 20 lessons of 45 minutes each. In the table below, you find the price for a complete course, please note that the prices are per person.
Option
Number
of lessons*
Total cost
EUR per person
A
2
60 €
B
4
120 €
C
8
240 €
D
12
360 €
E
16
480 €
F
20
540 €
(10% discount)
*1 lesson lasts 45 minutes and costs 30€ per person
As you see in the tables above with the booking of option F (20 hours) there is a price reduction of 10%.
WHERE
All my language courses take place in my apartment in Munich, in the area of Laim, find all information about it on my contacts page.
FREE TRY OUT LESSON
If you are considering the possibility to book a private course with me, please hold on a moment and decide after a free 45 min. lesson.
In this free try out, besides giving you an example of a real lesson, I assess your level. At the end of it, I will suggest you the level you should go for.
Besides, I explain all the details of the course and the booking.
After the free lesson, you can decide at your pace if you want to book or not. In each case, the trial lesson is free of charge.
To book a lesson go to the contact page.