Willkommen to my website, I am Giulia and I give German lessons in Munich in 2020.
On this page, I'm going to give you a brief introduction to my lessons.
Why is important to take a course?
If you moved to Germany for sure you feel the need to integrate yourself into your new social and working environment, to make it is fundamental to speak German.
You have different opportunities to learn German, either in a school or with a private teacher. You can take a group lesson in a language school, unfortunately, this is highly ineffective, and you might spend a good amount of money before realizing it.
For a few years, I have taught in Munich's language schools and I know very well where the problems are:
in a class, there are too many learners,
besides, the levels of the learners are too different, therefore the lessons can't be effective.
I tried to describe the characteristics of a group course and a private German lesson in the infographic below. It should be clear but you can also read my post 3 differences between group and private lessons.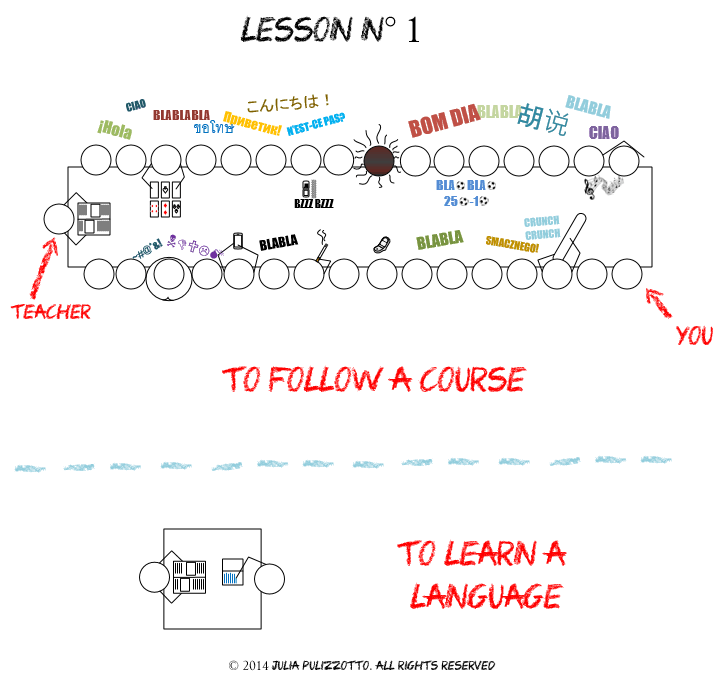 Private lessons
Individual lessons are a more efficient way to learn because the teacher is committed solely to your learning and can adapt the lesson to your demands on the fly.
A private teacher helps you with the many grammar pitfalls, for example, and with the pronunciation that is usually neglected in a group course for time limitations.
With private lessons, you will master the language in the shortest time.
What level for my German lessons in Munich in 2020?
All levels from A1 to C2, depending on your current knowledge. We assess it at our first meeting.
In particular:
A1 and A2 are the courses for beginners. They deal with basic grammar and vocabulary to formulate the easiest sentences.
B1 and B2 develop the lexicon and consolidate the grammar knowledge of the student.
C1 and C2 focus on conversation, we discuss topics inspired by the news and read texts of high level.
While C1 and C2 are deputed to the conversation, I use to try as much as possible to start the easiest conversation from level A1, if necessary pushing you a bit, because it is when you get outside of your comfort zone that you are actively learning.
In addition to the normal course, we can also take a course for the preparation of one of the German examinations. You can read about the possible language test, testDAF, Goethe certificates, and others on my page about German certificates. This is interesting especially if you plan to study at a German university.
I will test your actual level at our first meeting.
Prices of the lessons
The lesson of 45 minutes costs 42€.
You can book either 2, 4, 8, 12, 16 or 20 lessons, each lesson is 45 minutes. The prices are in the table below.
Booking 20 lessons (option F) you have a 5% rebate.
Option
Number
of lessons*
Total cost (€)
A
2
84 €
B
4
168 €
C
8
336 €
D
12
504 €
E
16
672 €
F
20
798 €
(5% discount)
*1 lesson lasts 45 minutes and costs 42€
Where
All the lessons are in my apartment in Munich. Contact me to make an appointment and get the address.
Not convinced yet? Get a free try out
You can have a free lesson, after which you can better decide if you want to book a course.
The purposes of the try out are:
we know each other
I show you how a lesson works
I assess your knowledge to understand the most appropriate level to start with
I give you more details on the booking
Later you can decide to book a course or not, you have no obligation.
To contact me follow the link below: